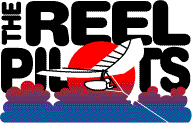 Pages and Subjects:
Static Towing | Driver SOP
Static System Parts | Launch Post | Lockouts
Hewett Bridle | Flying Sites
Welcome
Welcome to the Reel Pilots' Site. Here, you'll find information not only on our club, but on lots of stuff that's flying and/or towing related. As this website develops there will be more and varied subjects offered, so check back often.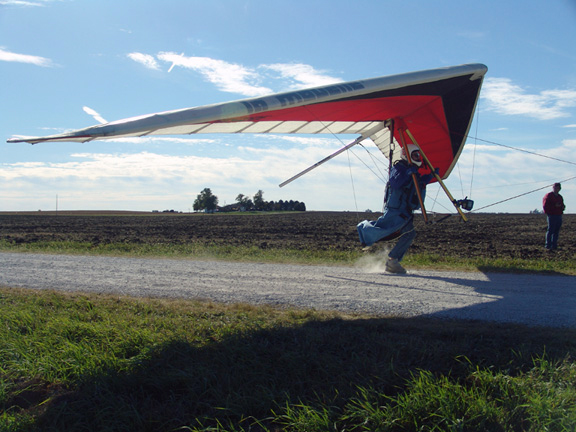 Your webmaster launching at the Cullom IL site, October 2005. Photo by Marzena or Robert Fryk.
Towing Hang Gliders
Flying hang gliders is a GAS! But when there are no mountains to jump off, inventive minds find another way... and that's to tow our gliders much like a kid pulls up a kite, except we use a car or truck on long country roads or airports. We'll also use motorized ultralights in other areas. Towing is NOT something a beginner should attempt. The history of towing is full of stories of some highly experienced pilots getting injured (or worse) when they tried to tow without expert supervision. There is no need to go through the pain and agony of trial and error when tandem instruction is readily available. See our Instructors' page for local tandem-rated guys who will be glad to show you how to fly SAFELY. If you're a pilot with Hang 3 or better skills, then getting into towing requires a little coaching and some patience on your part and for the weather and conditions to be right.
Video of tow launch from July 2007 at Bong Park, Wisconsin.


Learning to Tow the Reel Pilots' Way
Our style of introducing pilots safely and successfully to static line towing is a 2-day process (usually).
Our ideal introduction starts on Day 1 when you show up at a site without your glider. You'll learn all the elements, including the teamwork necessary for a good towing system: the hardware, vehicle use and driving, radio usage on the ground as well as hearing pilots in flight, weaklinks, towline, and other equipment du jour. This may seem elemental, but we've found it the best way to start.
On Day 2, with all the above in your head, you'll set up early in the morning for your first tow. It'll be a smooth, light wind day with no thermals or turbulence to interfere with that first flight. After several successful tows in real calm conditions, you may be allowed to tow in increasingly turbulent conditions. Some pilots whose skill and ability is known to the "coaches" have been allowed to tow on Day 1, but that is not the norm.
We've seen some pilots have problems that could have lead to disaster. Others have done just fine. And there is no way for us to know beforehand who can do what. Therefore, your patience is required while we get to know you and your ability.

Basic Parts Checklist for a Static Towing System
Non-stretch bridle. Hewett bridle starts with about 25 feet of line before making loops in ends.
2-way radios with charged batteries at launch, the glider and the tow vehicle.
Effective release that works in any attitude and trigger direction (Linknife is one type).
Release activation able to be used quickly by either hand.
Hook knife readily available, hopefully by either hand.
Parachute.
Calibrated line tension gauge in the driver's line of sight
Tested and functional weaklink at the pilot, rated approximately 1G.
Enough towing power at the vehicle.
Towline in good condition (our min: 1000', normally 3000' of 3/16" poly).
Effective towline retrieval method.
Windsock(s).
Observers / Helpers at launch.
Suitable site and permission to use it, for both launching and landing.
See Don Hewett's Skyting Criteria

Reel Pilots Home | Members | Criteria | Driver SOP | Static Line Basics | Flying Sites | Links | Airshow | Site Opening Primer | Photos | Chutes
Static Towing Parts | Hewett Bridle Basics | Lockouts | Launch Post | Payout Primer
Linknife Home
Static Line | Aerotowing | Payout/Platform
Pitch Limiter | Testimonials | Demonstration
Birren Design Company | Site Map
Subscribe to the RHGPA e-mail list
for news from the Flatlands of the Great Midwest

Subscribe to the World Towing List
All towing all the time
Site designed and produced by Peter Birren
Last update November 19, 2011